Contact Info
Dawn M. Shepherd, Web Design & Creation
Dawn Shepherd
701 Penn Ave
Mason Neck, VA 22079
Phone: 703-550-3447
Email:
dawnshepherd@cox.net
Website:
DawnShepherd.com
Services
Custom web site design and build-out
E-commerce web solutions
Email newsletters & marketing campaigns
Web site 'facelift' redesign
Domain name registration and set up
Graphics for web and print
Posters, banners, brochures, logos
Web site maintenance and upgrades
html, php, MySQL, Joomla, Vignette
Social network site and blog
Fundraisers We Support
Lorton Community Action Center (LCAC), Audubon Society, Nature Conservancy, National Wildlife Federation
Going Green Commitments
Electronic Invoicing
Office Paper Recycling
Glass and Plastic Recycling
Energy-saver Light Bulbs
Virtual Conferencing
High-Efficiency Climate Control
Tankless On-demand Hot Water
Hours of Operation
Call 703-550-3447 to schedule an appointment
About Us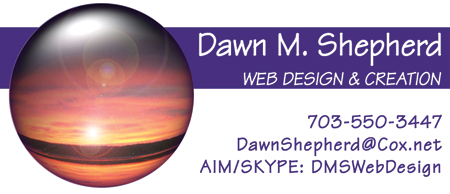 Dawn Shepherd
has provided quality professional web design and production services since 1998. Her clients include World Bank, Pacific Coast Canola, Satellite Users Interference Reduction Group, Look.Net LLC, South Fairfax Chamber of Commerce, Microfinance Management Institute, and many others. Dawn is available for ground-up web development, site re-design, blog set-up and customization, social networking communities, content updates, and site maintenance, as well as copywriting, graphic design, and print work.
Contact Dawn Shepherd at 703-550-3447 or
DawnShepherd@cox.net
to discuss your next web project.
CLIENT RECOMMENDATIONS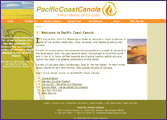 "I have actually never met Dawn which makes this recommendation even more remarkable because I have hired her on three different projects over the last twelve years. She was recommended to me when I first hired her to set up the email communication system for the Mayor of Seattle, then Paul Schell. She did an excellent job, working 100% over the phone or by email. Then I hired her to set up our company website at www.wabiodiesel.com and then at www.pacificcoastcanola.com both of which have been very well received. The PCC site has a password protected portion for investors that Dawn needs to keep up to date, sometimes on an hourly basis during negotiations. Again, she does a fantastic job not only in producing what we need quickly but often making recommendations to improve parts of the site we hadn't thought of. Lastly, she set up my blog at www.joelhorn.com which has been really fun and I could not have done it without her help. I give Dawn my 100% recommendation."
Joel Horn, Pacific Coast Canola
---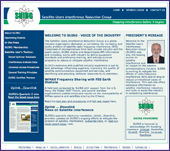 "We are a not for profit technical corporation who hired Dawn in 2003 as our web master where she developed a world class web site that won
Best Website of the Month
from a web based trade magazine. Dawn is more than just a web designer, she is an active and very productive member of our management team where she continually makes excellent cost savings recommendations. I would recommend Dawn for any web site or database development initiatives."
Bob Ames, Satellite Users Interference Reduction Group
---
"Dawn is a consummate web professional, able to create outstanding results on an aggressive schedule. Her artistic eye and preference for very clean code is the perfect blend between the creative and the practical."
Beth Coughlin, Eiledon Briards
---
For more information, call 703-550-3447, or email
DawnShepherd@Cox.net